Responding to the needs and expectations of clients representing various industries, the Malko-Met brand offers professional anti-corrosion protection of steel structures and components. Our offer includes both protection of steel structures designed and assembled by us, as well as elements and components supplied by the customer. Having a fully equipped, modern painting space, we are able to realize virtually any order, regardless of the input and size of individual components.

Anti-corrosion protection of structures
All Malko-Met structures are covered with a specialist anti-corrosion coating, which prolongs the life of the structure, at the same time increasing the safety of its use and minimizing the costs associated with its operation. We subject the protected components to the process of chemical degreasing, which increases the adhesion of the anti-corrosion coating and improves the aesthetic value of the finish.


This is particularly important in the case of industrial and commercial structures, which have to fulfil their functions while attracting users with modern design, which is why we offer surface preparation and painting of steel structures in accordance with international standards EN ISO 12944, EN ISO 8501, EN ISO 8503, EN ISO 8504:
abrasive blasting with steel shot
blast cleaning with cast steel shot to grade Sa3,
glass blasting with glass micro beads,
hydrodynamic painting with professional painting units,
zinc spray metallization.
We are able to protect the steel structure against corrosion in terms of any environmental corrosivity which, according to the standard, is divided into six categories :
C1 very low,
C2 low,
C3 medium
C4 high,
C5-I very high (industrial environments),
C5-M very high (marine environment).
Our highly qualified staff with appropriate training is able to secure steel structures with fire protection paints up to fire resistance class R15-R120.
We cooperate with renowned paint suppliers on the European market, so for corrosion and fire protection of steel structures we use materials of the highest quality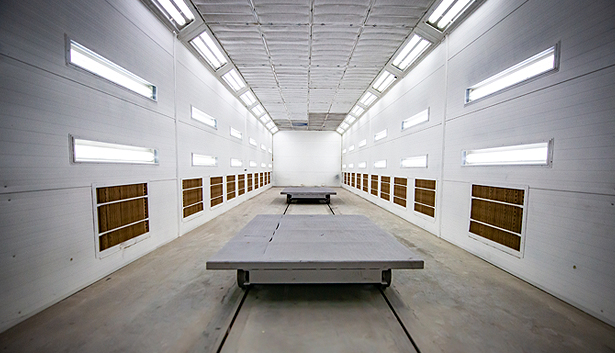 As a brand offering anti-corrosion protection for steel structures, we have a fully equipped, modern paint shop:
a blasting chamber with the size of 20m x 5m x 4m,
a chamber for application of metal coatings made of zinc, aluminum and an alloy of these metals, with size of 20m x 5m x 4m,
a paint application chamber with the size of 20m x 5m x 4m.
The paint shop is located in a hall with an area of 3000 m2 equipped with additional cranes with a lifting capacity of Q= 12 5 T and Q= 10 T, which can work in tandem.
If you have any questions or concerns, Malko-Met specialists are at your disposal. We will be happy to answer all your questions and help you choose the best anti-corrosion protection.